Some of you have run into a little problem in mission 005 of NEW ORBIT, so until the fix has passed Apple's inspection, here's what's going wrong and how to avoid it:
First the solution: Don't get close to Noah's Asteroid before the Cargo-Ship reaches the lost ship.
And here's why: There's a "proximity check" on Noah that triggers when you enter the area and tells the story-script that you've left the lost ship. When the cargo-ship arrives at the lost ship it triggers another "proximity check" that tells the script that you arrived at the lost ship. If it happens in this order, the game believes you've decided to stay with the poor lost ship forever on… Fixing it was easy once I knew what was going wrong: Only enable the trigger on Noah after the cargo-ship has arrived at the lost ship.
This is what mission 005 looks like in the editor, by the way: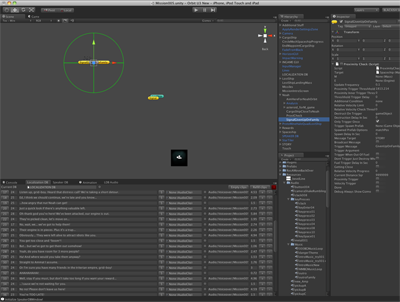 Fix will be out soon! And stay tuned for a bit of bonus content as well!