Shortly after NEW ORBIT was released on iOS I wrote to Desura as one possible way of distributing the PC/Mac version and got told that "The game play just doesn't seem that interesting". – Today I replied:
About that…
"The unique gameplay is difficult to master but so satisfying" –Jason Wadsworth, 148apps.com , read the review here
"New Orbit manages to accomplish something very rare in the increasingly all-encompassing video game industry: it does something new. I've never played anything quite like it." -Justin Davis, ign.com, read the review here
"We think you should give it a try. Our users raved about the game after its initial debut, and still seemed high on it even after finishing." –Brad Nicholson, toucharcade.com, read the review here
But do the players like it? – Glad you asked, I'll attach a screenshot of the most recent user reviews from the AppStore. (I can send you 25 pages of 4 and 5 star reviews from players in the US alone…)
Kindly awaiting your apology,
Markus Hofer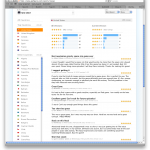 The mail ends here. – If you'd like to see the game on Desura or have any other favorite platform that you'd like to see it on, tell me – or even better – tell them! The best for me would of course be if you got the game straight from my site, but I won't hold a grudge against you if you get it somewhere else… or will I?